Childhood Born on August 31, 1943, as the second child of the painter Paul Perner and his wife Marianne Perner-Schröder; brother to an older sister, Burga.
Ph.D. Comparative Literature,  University of Zurich, Switzerland, 1970 (Thesis on the French Poet Stéphane Mallarmé and the Swedish poet Gunnar Ekelöf under the directon of Prof. Paul de Man, Yale University).
B.S. Studies of French and Scandinavian Language/ Literature and of Comparatistics at the Universities of Aix-en-Provence (France), Uppsala (Sweden) and Zürich (Switzerland)
"Lizenziat" of Zürich University, 1963-1968.
"Matura"  at the Swiss Alpine College of Davos, 1962
2020           
January 10 – February 5, 2002
"Revisiting Anyuak Country after 40 years": Reise in den Südsudan, zu den Anyuak und nach Yirol, in Begleitung von Napoleon Adok Gai, Roman Stocker Filmemacher), Simona Sablijo (Nurse) und Joana Holliger (EDA).
Meetings with President Salva Kiir Mayardit, Vize-President Riek Machar und Angelina Teny, Dr. Peter Adwok, John Gai Yoh, King Akway Nyikwo, King Adoc Agada, Dr. Michael Mabor, former SDC-Students, with EDA-delegates und ICRC-Delegates in Juba, chiefs, commissioners and viele Bewohner.With a film-documentation by Roman Stocker
Documentation of the House I 3D, by Dr. Klaus Powroznik
Photographs of the Collages in the WC (9 volumes)
 2012
(December 31) Lecture in Davos Monstein. "Ein Leben ohne Grenzen" (General  Assembly of Pro Monstein / Prof. Daniel Thürer)
(December) Gurtong Advisory Meeting, in Juba (South Sudan)
(October 27) "Humanitarian Award", by the Human Rights Commission of the city of Austin.
(October) Lectures at the State University of Winona/Minnesota, U.S.A., in Rochester and Austin.
(September) Lectures at the University of Bern.
(March)"Specialists' meeting on the conflicts in Jonglei-State / South Sudan",organised by the Office   of Transition and Conflict Mitigation /  USAID in Nairobi.
2010
Member of the Rift Valley Institute (Fellow and member of the Institute's advisory board)
Work on a new book "Why did you come if you leave again? An ethnographer's footprints among the Anyuak in South Sudan"

Work on Anyuak Music and on Volume IV of the Anyuak Monograph
Annual Meeting of Gurtong Advisors in Juba (February)
2008
Work  for the Swiss Department for Conflict-issues in Kenya, and South Sudan
Promotion of the "House of Nationalities"-project Phase IX:
Special Senior Peace-Advisor to the Ambassador for Human Security in the Swiss Ministry for Foreign Affairs

General planning of activities in the Sudan
Supervisor of the Gurtong-Peace-Project
Co-operation with SPLM-figureheads, the SPLA-leadership, the Civil Society, Sudanese intellectuals etc. Co-ordination with the US Institute of Peace.
Co-organiser of the Conference on Traditional Authorities in Western Equatoria State (Yambio, March)
Co-organiser of the Conference on Traditional Authorities in Warrap State (Tonj, September)
2005
Work  for the Swiss Department for Conflict-issues in Kenya, and the South Sudan: Promotion of the "House of Nationalities"-project Phase VI:
Special Peace-Advisor to the Swiss Ministry for Foreign Affairs
General planning of activities in East Africa
Supervisor of the Gurtong-Peace-Project
Initiator of the Cultural Pages (published on Gurtong)
Co-organsior of the international Conference on "Traditional Authority and Modern Governance" in Neuchâtel (April).
Co-organiser of the 1st Nuba Traditional Leaders' Forum in Julud
Support to a visit by SPLA-officers to Switzerland
Initiator of a project-proposal on a Cultural Centre in the South Sudan; co-operation with Unesco and the Ministry of Culture, Youth and Sport in the Sudan.
2002 – 2005
(three years) Programme-supervisor of the Gurtong-programme, a project aiming to bring peace to the South Sudanese Diaspora (see: www.gurtong.net).
2002 
(November/December) Preparation of the third Meeting on the "House of Nationalities" in Nairobi, Kenya.
Report on the Nuba Mountains (ca. 150 p.).
 2002
(March to mid-November) Sector-Commander of the "Joint Military Commission" (JMC) of the Cease-fire-monitoring mission in the Nuba Mountains in the Sudan. Liaison-Officer  between the JMC and the SPLM Nuba Mountains in Kauda.
2002
(February) Preparation of a research-project in South Sudan: the proposed study concerns changes in identity, self-understanding and cultural relationship in the South Sudan; the project was conceived on demand of the Swiss Department for Conflict-issues.
2002
(January/February) Work on the pamphlet initiating to the project of creating a "House of Nationalities" (see below) as a part of future governance in the South Sudan.
2001

(November/December) Mission to South Sudan and the Kakuma-refugee-camp in Kenya: selection of young Sudanese from marginalized ethnic groups in view of a scholarship-programme sponsored by the Swiss Development and Co-operation Department (SDC); final selection and initiation of the programme.
 2001
(August-November) Work on a Project sponsored by the Swiss Department for Conflict-Resolution regarding the creation of a "House of Nationalities" (a institution where representatives of all ethnic groups of the South Sudan would meet): conferences, workshops, contribution to a pamphlet on the subject of national unity.
2001
(July) Selection of candidates for scholarships provided by Switzerland to young members of marginalised ethnic groups in South Sudan.
1995 – 1997
Co-ordinator of the activities of the International Committee of the Red Cross (ICRC) in Afghanistan in the field of the co-operation with the Afghan Red Crescent Society.
Advisor for UNICEF and OLS ("Operation Life-Line-Sudan" with its 40 NGOs) on their activities in South Sudan.
Initiator of the UNICEF Cultural Workshop in Lokichokio (Kenya) on the history and the people of the South Sudan.         
1993

(-July) Advisor of the International Committee of the Red Cross for its activities in the Sudan 

(January-May)  Head of the ICRC-Sub-delegation in Lokichokio (Kenya)  
(responsible for the  ICRC's activities in South  Sudan)
 1992
Field-Coordinator of the ICRC for its activities in South Sudan
Contributor to the International Workshop on "Human and ecological consequences  of war",   at Bergen in Norway.
Lectures at the university of Uppsala in Sweden.
1980 – 1984
Yearly visits to the Sudan and the Anyuak Country in the South of the country.
1976 – 1980     
Fieldwork on the Anyuak, their language, traditions, history and culture
(Sponsorship by Zurich University and the Swiss National Fund for Scientific Research).
1979
Documentation of the Anyuak material culture (Collection Musée de l'Ethnographie, Genève).
1975
Preparatory visit to Anyuak-country in the    Southern Sudan..
1974 – 1976
Lecturer for French Literature at the University of Khartoum (The  Sudan).
Studies of Anthropology and African History at the University's Institute for Afro-Asian Studies.
Research in the National Archives at Khartoum.
1994
"Fremde Wertvorstellungen: Von Geld, Darlehen und  Schulden, von Arbeit und  Lohn, von Dankbarkeit und der Würde des Menschen…" 
Für:  Bank J.Vontobel, Zürich
"Notes on the cultural appropriateness of a fishing-project in the Upper Nile" Operation Life-Line Sudan / UNICEF Nairobi
1994        
"Notes on the fighting in the Upper Nile between the Lou- and the Jikany-sections of the Nuer in 1993 and 1994"  Operation Life-Line Sudan /UNICEF Nairobi
1993
"Traditional Approaches to Sickness and Healing in the Southern Sudan" Operation Life-Line Sudan / UNICEF Nairobi
1993

"Orientation to certain patterns of  behaviour and the relationship between the Sudanese and foreign relief-workers" Operation Life-Line Sudan / UNICEF Nairobi
Insights into my private life journey
In cataloging the various stages of a professional life (the so-called curriculum vitae), references to activities and interests that are not related to the daily work are missing. Thus, my monograph on the Anyuak tribe – for example – testifies to the culture of a people in Southern Sudan but overlooks the adventurous history of the research and only indirectly hints at the personality of the ethnographer, his physical strength, his intellectual abilities, his socio-political attitude and his artistic interests. If one limits a curriculum vitae to dates, facts, and professional activities, one hardly learns anything about experiences, adventures, feelings, and thoughts, about frustrations, disappointments, losses, fears and hopes, about visions or vital relationships with other people.
Almost all the people I met in life seemed to appreciate my cheerful nature, my humour and the respect I showed them. I made no distinction between "important" and "ordinary" people, was understanding and generous, friendly and interested, mostly positive, only rarely emotional and never hurtful, usually in a good mood and outwardly calm. I was honest, modest and did not pursue any self-interest, my commitment to the welfare of the people seemed credible to them. They admired my courage, my drive, and my perseverance, they felt comfortable in my company, freed from social constraints and prejudices. My sympathetic humour was the bridge between people and their different cultures. I was respected by everyone and loved by many people; as far as I know, I had no enemies throughout my life.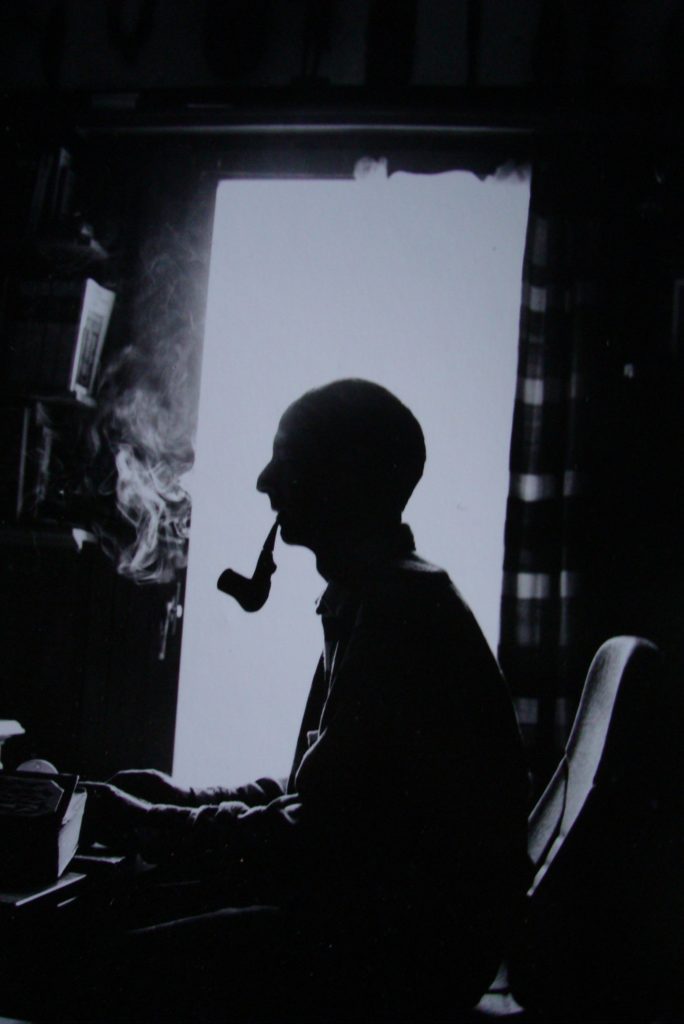 I remained a loner, even in society. My lack of self-confidence forced me to look for the meaning of my life in other people and to find myself through them. I did not want to limit my life to myself. Outwardly calm, fearless, ready for action, determined, never fearing for my life, I was inwardly disoriented, feeling lost in my own wilderness; I was agitated by doubts about the meaning of what I was doing, constantly struggling with my existential loneliness and against a surf of suicidal thoughts. My body was strong, open, cheerful and enterprising, but at the same time I was vulnerable and self-critical to the point of self-destruction; I lacked ambition and so was uncomfortable being praised for my efforts; as far as possible I avoided public appearances. I only felt really happy when I could grasp the fruits of my labour with my hands, i.e. when I was fulfilling concrete, mostly manual or creative tasks – because in doing so I could forget myself. Inside I was powerless and discouraged, lost in the darkness of my feelings, – but friends kept dragging me into the light and gave me the strength of love to fight against my self-doubt, to keep my basically positive attitude to life and to remain cheerful. I was very lucky to be surrounded by wonderful, good people everywhere and to be unconditionally supported by them.
Departing from the predefined path 
The question of why my life story, which in some respects is extraordinary, came about at all is irrelevant – it probably has a lot to do with my youth in the mountains and my early interest in books. What would have happened to me if I had grown up in a big city? A revolutionary, a mathematician, a craftsman, a journalist, a lawyer, a street worker, a professor of human rights, a singer or even a poet? In my carefree youth in the mountains, a stone probably started rolling, and everything that happened afterwards was only more or less a logical consequence of these early movements and certain earth tremors during childhood that I am still unaware of today. My great-grandfather, grandfather and father had run a painting business in Davos, and so I too should probably have learned the trade of a painter and carried on the business; but for some inexplicable reason I had strayed from the path laid out for me and left my beautiful, beloved homeland at the age of nineteen; it was only after retirement that I returned to my parents' house in Davos.
An adventurous youth in the mountains
In my childhood and early youth there seemed to be little room for sentimentality. My love was for nature in general and the mountains in particular, it was filled to the brim with adventurous experiences, be it climbing, ski touring or with horses. I had come into the world in Davos, a paradise in the Grisons mountains, grew up in this magnificent landscape and found all my strength and love of life in it. I don't know whether I was born as a fearless adventurer or whether it was only during this time that I was gripped by the need to constantly seek out new challenges, overcome dangers and discover the unknown. During primary school I played ice hockey with the Hockey Club Davos in winter and went hunting for flowers and berries with my parents, but after that I became a member of the Alpine Club and from then on spent my weekends in the mountains, becoming a daring telemark skier and soon an experienced alpinist, the latter in the company of famous mountaineers like André Roch and the Reiss brothers or like-minded school friends. I spent free afternoons on horseback or with the scouts of the Greifenstein tribe of the Pro Pace branch. The rest of my school time was devoted to books, from Karl May to Albert Camus… Probably my irreplaceable love of books and my need to write was passed on to me by my father, and with it – unfortunately? – the lack of desire for dancing and public pleasures. Mountains and books had made me a reckless loner, I was lonely and shy of people, but through my parents I also learned to look for people "with my soul", to love them and to be happy with them. From where my addiction to being alone and at the same time my need for company came, I don't really know. I was antisocial, anarchistic, rebellious and unreasonable, but at the same time socially minded, understanding, rational and extremely generous.
Looking back, there are some constants in my life that have formed the backbone of my physical and spiritual existence.
The instinctive urge for freedom and nature 
The first and most fundamental of these constants was the instinctive urge to live outdoors and seek the wide open, not (only) as an escape from reality, but (above all) as an opportunity for self-discovery. I felt comfortable and at home in nature, be it in the mountains, in forests, by rivers and lakes – only the sea with its mercilessly violent waves and gawking fish remained alien and uncanny to me (the Mediterranean, on the other hand, seemed like a great lake of warm light). So I spent most of my time outdoors, in the mountains or in the savannah, in gardens, on balconies or around campfires in front of my hut; nature opened up the necessary space for encounters and conversations, but even when I was thinking, reading or writing books, I sought the open sky and fresh air.
The addiction to shape the world and settle into it
One constant that I only became aware of later was my endeavour to feel as comfortable as possible in my world and to shape it to my taste. My surroundings were part of my daily life, not only in the great outdoors but also in my living space. Even as a child, I had constantly built huts with my friends, whether on trees, in barns or in cellars, out of wood, grain sacks, cloth or canvas, and later in Sudan I built my own huts and or transformed existing spaces (even hotel rooms!) into the most possible restful oases of well-being. My gift for craftsmanship and my search for aesthetic pleasure helped me in this quest for harmony, tranquility and beauty. My creative urge led to the creation of enchanting gardens in all countries and in even the most barren landscapes, made of sand, stones, cacti, flowers and tall grass. The types of gardens and the arrangements of spaces varied greatly according to local conditions, but they were always places of reflection, pleasure, and inspiration, and became a centre of attraction for visitors and a source of friendships. In my environment and my company, everyone should feel comfortable and at home.
During my professional life, I always had to change my place of residence and settle down again and again. Only my parents' house in Davos remained attached to me, lent stability to my unsteady life and gave me the peace I needed to write. Over the years, the house grew into a colourful personality of its own, an independent living being that led visitors from room to room through different cultures, inspiring them, enchanting them, taking them to distant worlds and yet ultimately leading them back to themselves. Statues, everyday objects, books and pictures became roommates and quickly became familiar friends. Despite its advanced age, the house sparkled with life and steadfastly refused to be a museum for memories; it remained a generous host for visitors of all origins and ages. No two rooms here were alike, and yet they were all part of the same house, the same spiritual world – and on the balcony you could even reach out and see the sky shining, day and night.
In balance between matter and spirit: Flying high and staying grounded 
My addictive need to touch and create everywhere was probably necessary to keep me balanced and to keep my feet on the ground. For as much as my senses were rooted in nature, my mind sought to tear itself away from reality and whisk me away into the realm of fantasy. I may have spent my time in the wilderness or in war, dealing with very earthly things, but inside I was also living in another, not directly tangible world. It was books that had opened the door to this world for me, and it was landscapes, cultures and living people that I had encountered in this foreign world as an adolescent. Through books, I lived in another, distant world from an early age, a world that I was to see and experience with my own eyes in my later life. Books were the temptation of my youth, I succumbed to it and followed it to the end, even to the point of writing my own books.
Expeditions and discovery trips
I did not wait until external circumstances brought me into difficult situations, but sought out challenges and difficulties of a physical and spiritual nature voluntarily and without coercion – as if I could miss something of life at home and within myself. Whether in the far north in Lapland, in the desert, in the jungle, in the Himalayas, on the island of Flores in Indonesia, in the Pamir Mountains or in the savannah, everywhere I undertook sometimes great physical exertions to expose myself, to experience something new and to give myself a zest for life and new energy. Wherever possible, I also visited sites of foreign cultures, climbed a pyramid in Egypt and drove to the Valley of the Kings, swam in the holy, poisoned Ganges in Allahabad, witnessed a cremation in Varanasi (Benares), saw the Taj Mahal on a full moon night, visited the golden temple of the Sikh in Amritsar and the residence of the Dalai Lama in Dharmasala, India, entered the pagodas guarded by monkeys in Bali, climbed the (then still undestroyed) great Buddha statue in Bamiyan in Afghanistan, admired temples in Katmandu in Nepal and the blue mosques in Samarkand and Bukhara in Uzbekistan or those in Mazar-el-Sharif and Herat in Afghanistan. My time in Africa was marked by endless marches under often difficult circumstances, again always with the aim of physically encountering new cultures and being allowed to accompany complete strangers through their lives for a while.
A life with animals
I love horses and also dogs, and so I would have liked to spend my life on a big farm, galloping across endless fields and through thunderstorms to the horizon; dogs would have accompanied me barking. I would have liked to have my own animals later on, dogs and especially horses, but unfortunately this dream was to remain unfulfilled for lack of money and space. During my youth in Davos, even before school started in the early morning, I watched deer and stags, made tape recordings of bird calls in the forest and observed chamois, ibex and snow hares in the rocks.  My interest in animals and birds took me to many zoos in Europe (such as Stockholm, Copenhagen, Hamburg, Basel and Zurich) in my youth and later to the wretched zoological "gardens" (actual "animal prisons") in Khartoum and Malakal in Sudan. During my first journeys through East Africa, I crossed most of the big nature reserves (Serengeti, Ngongoro, Amboseli, Tsavo, Mount Elgon, Masai Mara, Nairobi, etc.) and in Northern Sudan I visited the camel markets of Omdurmann and spent many evenings in the exciting company of cats, pigeons, goats and donkeys. Zoos and wildlife parks only feign physical closeness to animals and give little idea of how exhilarating it must be to encounter these wild animals unprotected in the wild. My research time in South Sudan was spent under harsh, in every respect merciless living conditions, but as far as the animal and bird world was concerned, I lived here in an actual paradise (even if this "paradise" was not always characterised by peaceful coexistence for the animals themselves either). In my homestead I lived in the company of over twenty dogs, fifty chickens, a varan, a young antelope and (occasionally) a saddle-billed stork, – not to mention pissing bats, dangerous giant centipedes, deadly poisonous snakes, swarms of mosquitoes and glow-worms, armies of rats, spiders and all manner of nasty vermin. During my countless expeditions, encounters with wild cats, giraffes, antelopes, snakes, zebras, crocodiles, servals or hyenas were not unusual, only leopards, my supposed conspecifics, never crossed my path.
Stones and lichens
Unlike many people in Davos, I was never interested in mushrooms. My love was for flowers, stones and lichens, from which I felt an inspiring power. Holding a stone in my hands gave me a feeling of happiness, and touching lichen was a sensual, almost erotic experience. The warmth, the softness and the edges of the rocks made me melt into the matter and allowed me to detach myself from my thoughts for a moment and forget myself. All over the world I searched for stones, examined them for colours, designs and shapes and carried the most beautiful among them home. My foreign colleagues thought I was a geologist, the locals a witch doctor. In Lokichokio in northern Kenya, I built a flourishing garden of nothing but stones – every morning I watered them.
Sports activities and events
In addition to my own sporting activities such as mountaineering, climbing (in Graubünden and the Calanques near Marseille), horse riding (in Davos but also in Verden an der Aller, in the English Garden in Munich or in the Camargue in southern France), tennis (in Nairobi), sailing (on Lake Davos, Lac Léman in Geneva and in the Mediterranean near Marseille) and swimming (in the Mediterranean, in the North Sea in Germany and Norway, in the Red Sea in Port Sudan, in the Bay of Bengal in Cox's Bazar, in the Pacific in the Big Sur in California, in the Skärgården near Stockholm, in the fantastically beautiful lakes of Sweden, in the ice-cold Lake Davos or in the unique swimming pool of Klosters), I was interested in sports in general and attended sporting events wherever the opportunity arose. These included, of course, ice hockey games, speed skating and figure skating championships in Davos' famous natural ice rink, where an exciting Concours hippique on snow took place every year at the beginning of March. I attended skiing and cross-country skiing races in Davos and Le Brassus, horse races in Maienfeld, Merano, Hamburg, Munich and England, a greyhound race, a stock car race and an air show in England, a country hockey world championship during my time in Barcelona, an athletics meeting in Zurich and probably more; I was only a spectator at a football match once (in Geneva), but I was able to experience an American football match in Stanford in California. I attended the Roland Garros tennis tournament (in Paris) several times and watched players like Ivan Lendl, Stefan Edberg, Mats Wilander and John McEnroe; I also attended a tennis tournament in Geneva and at Wimbledon (in London). At the Sertiger Wrestling Festival in Davos, of course, I was a spectator several times, and during my time in the Nuba Mountains in Sudan, I became a fascinated witness to the famous wrestling matches of vigorous young Nuba men.
Alcohol and tobacco
In my parents' house, alcohol was only drunk, and tobacco smoked as an exception, so it was never talked about. I spent my time in the mountains and for that reason alone was never tempted to smoke – not even hashish. My fierce adolescent dream of becoming an alcoholic so that I could lie drunk in the ditch and write Irish or Welsh poetry unfortunately did not come true… …but when I was given a pipe by my sister at the age of sixteen, I started a habit to which I was to remain faithful throughout my life: smoking a pipe suited my need to keep calm, gave me time to think and kept me company in times of loneliness. Since I did not inhale tobacco smoke and was constantly on the move, the damage to my lung capacity was limited. During my research period, there were no alcoholic beverages (except for home-brewed millet beer, which I did not like), but tobacco became the key to my efforts to get in touch with locals: for tobacco was not only an offering to natural powers there but also the only means of winning the love of girls! If I had not smoked, access to people and especially young women would have remained closed to me! Alcohol was much less important in my life than tobacco; only after my return to Switzerland did I start drinking two-three glasses of red wine every evening, but unfortunately I never managed to get drunk and therefore lose my mind – I felt sick after drinking more.
Deprivations and diseases
The greatest demands on my physical strength came during my research period in South Sudan: days of marching through swamp and savannah brought me to the brink of exhaustion. At that time I was very strong, tough, resilient, persevering, possessed of a strong will and therefore able to overcome even great physical and psychological difficulties. I had never been spoiled and had hardly any demands for comforts, but in South Sudan I learned to be content with the very basics. In a sometimes almost miraculous way, I survived hunger, heat stroke, deadly snake bites, bullet storms, bomb drops and diseases like malaria, amoebiasis, salmonellosis, typhoid and hepatitis. My body and my guardian angels never let me down, had already protected me from avalanches and falling rocks when I was young. Only when I was twelve years old did I break my leg on a ski tour on the Bühlenberg, and a good sixty years later I broke my pubic bone while skiing on the Rhinerhorn. In my old age, however, I had to have surgery on my overstrained back and on a malignant prostate cancer.
Holidays and travel 
I had been on the road all my life, but the desire to travel somewhere for holidays, recreation and pleasure remained alien to me. I had spent many years in France, Scandinavia, the Congo, India and Bangladesh, Sudan, Afghanistan and the countries of Central Asia, and got to know many other countries during travels and expeditions. But because I knew the "exotic" sides of life from my work, I didn't have to look for them during my holidays as well: I therefore always spent my free time in Davos with my parents or followed invitations from my friends to Scandinavia, France or America. When I got older, I would have liked to travel around Europe and Switzerland in particular; apart from Paris, Marseille, London, Oslo, Upsala and Stockholm, I had not visited any major cities in Europe, and in Switzerland I only knew Geneva, Bern and Zurich reasonably well. For financial reasons, however, I had to forego such late discovery trips; but this renunciation only hurt me insofar as I would have liked to enrich my old age with cultural experiences and make it a little more exciting.
A time far removed from European cultural life
The active part of my life was spent in the African wilderness or in war-torn countries. This time was filled with trying to survive and overcome difficulties and consisted of trying to alleviate the misery of people in need. There were hardly any opportunities to engage myself culturally or to further my education – apart from trying to understand foreign cultures, of course. In the wilderness there was dancing, drumming and singing, but no concerts, films or theatre; the war left no room for cultural events or amusements anyway. I didn't have the time or the inclination to read the books I had brought with me; reality was drama enough. The pictures of the war showed the misery of the people, framed by a deceptively beautiful landscape. No one here longed for art. Personal experiences of art were therefore limited to my youth and old age.
Memories of musical experiences
My father was interested in literature and art, my mother was enthusiastic about opera singing, but apart from books or the radio, there was no real cultural life in Davos – apart from lectures by writers and scientists. My school years were rich in activities but in cultural terms – apart from books – rather meagre. This was to change during my time at the university. Although literature and nature (climbing in the Calanques, mountain tours in the Alpes Maritimes, the Cévennes and in northern India, expeditions in Lapland, etc.) still dominated my physical life, I took every possible opportunity to attend cultural events. These included jazz concerts by Abdallah Ibrahim (at the Africana in Zurich and Thusis) and the jazz festival in Juan-les-Pins on the Côte-d'Azur, where for three years I was privileged to witness moving performances by musicians such as Jerry Mulligan, Thelonious Monk, Eric Dolphy, Miles Davis, Charly Mingus or Sarah Vaughan. My student days coincided with the Vietnam War era, which produced singers and poets like Leonhard Cohen, Bob Dylan and Joan Baez and musicians like Theodorakis and Ravi Shankar. As a born freedom fighter, I shared their revolt against dictatorships in Europe and South America, their outrage at the war in Vietnam and their hope for peace. But my daily companions during my student days were the "Club des Poètes" and songwriters/chansonniers like Jacques Brel, Georges Brassens, Barbara, Jacques Bertin, Jean-Pierre Ferland, Michel Aubert, Serge Lama, Julien Leclerc in France, poets like Evert Taube, Sven-Bertil Taube, Cornelis Vreeswijk, Michael Bellman, the interpretations of texts by Nils Ferlin, San Anderson and Jonas Almqvist) in Sweden and singers like Fabrizio di André in Italy, Paco Ibanez in Spain, Ramon in Catalonia or singers like Violetta Parra and singers like Atahualpa Yupanqui in South America. Yupanqui's war cry "Basta Ya!" ("Enough is enough!") was also my own call at the time to fight against oppression, exploitation, cruelty and social injustice.
In later years, I would also be able to attend the musical "Hair" (in its original performance in London) and concerts by Sting, Barkley James Harvest and Angelo Branduardi (in Zurich), Santana (in Paris), U2 (in Oakland, California), Tibetan Dechen Shak-Dagsay (in Davos) and my soulmate Konstantin Wecker (in Lindau), among others. Bruce Springsteen, Marianne Faithful, Tom Waits, Van Morrison, Tracy Chapman, Sting, Pink Floyd, Toni Childs, Daniel Lanois and (later) Norah Jones, Nathalie Merchant, Geoffrey Oryema, and Anouar Brahim were among my favourite musicians.
Musical experiences also filled me during my time outside Europe, of course, in India but especially in Africa (and there in the Congo), where music made my soul vibrate and enchanted my senses. Of all kinds of music, that from Africa is still the closest to me emotionally in a magical, almost physical way.
Classical music is what I listen to most, and thus what I love most, but I have attended only a few classical concerts; those in Aix-en-Provence in the south of France have remained in my memory – perhaps because of the magic of the former archbishop's palace – as particularly romantic. In Munich, Johann Sebastian Bach's "St Matthew Passion" (with the world-famous tenor Ernst Häfliger from Davos) was a great art experience, and of course I will not forget Verdi's "Aïda" (in the amphitheatre in Verona), Bizet's "Carmen" (in Zurich) and – though not for musical reasons – Camille Saint-Saëns' "Samson and Dalila" (in Tashkent). Rare art experiences are often also wonderful memories of particularly loving companions.
Performing Arts: Ballet, Theatre Experiences and Small Theatre
I am glad that I was also able to see two wonderful ballet performances and overcome my bias against ballet: the fantastic performance of the Modern Dance Ballet (in London) and Maurice Béjart's spectacular ballet about the French Revolution (in Paris) are among the highlights of my artistic experiences. A ballet by Don Cossacks in Bishkek in Kyrgyzstan, however, remained unforgettable to me only because one of the dancers broke his leg during a high jump – it was tragic-comic to have to witness that.
I rarely went to theatre performances for practical reasons: I hardly ever lived in a big city. I only vaguely remember a performance of "The Taming of the Shrew" in Stratford-upon-Aven, Shakespeare's birthplace (I was only fifteen years old), but the performance of Aeschylus' "The Persians", which I also saw at the Residenztheater in Munich when I was still young, still remains in my memory as a milestone in my intellectual development – I even remember the name of the director!
Through fortunate circumstances (my sister was president of the Davos Art Society) I became a regular visitor to the Davos Kleintheater and was often led through the heights and depths of emotion by outstanding artists. One of these unforgettable artists was Uta Köbernick, a German cabaret artist full of profundity, charm, wit and critical foresight whom I greatly admired at the time.
Painting and museums
I grew up in a family of painters, so proximity to paintings was a given. My father had a large collection of books on painters and passed on his interest in art to us children. Wherever possible, I visited museums and exhibitions of artists during my life, including the many art museums in Paris, in Zurich, the Pinakothek in Munich, the Moderna Museet in Stockholm, the Munch Museum in Oslo, the Louisiana Museum near Copenhagen, the Kirchner Museum in Davos or the museums in Tashkent in Uzbekistan and in Bishkek in Kyrgyzstan. I also visited many ethnographic museums, for example in Cairo, in Kabul, in Central Asia, in Stockholm, in Switzerland and in Paris.
In our old house in Davos there are some paintings by African painters, a Tibetan thangka (scroll painting of Tantric Buddhism), batik paintings from Indonesia, elaborate embroideries from India and Bukhara in Uzbekistan, many woven carpets from Afghanistan, several paintings by my grandfather and Art Nouveau paintings, but it is the smaller objects and instruments gathered from all over the world that have made the house grow over time into a museum of memories. Paintings and objects have hardly any material value and are mostly just precious examples of the craftsmanship and artistic creation of ordinary people from all over the world.
A life with books
My early love of books led me to study language and literature, and the feeling of a kindred spirit with Albert Camus and the Swedish poet Gunnar Ekelöf led me directly to France and in a somewhat indirect way later to Sweden. In retrospect, it is difficult to say which authors and poets influenced me; at that time, the whole youth was in turmoil and setting out for new horizons. Landscapes, artistic experiences, political events, and the search for love probably contributed to my educational process, to an intellectual and political restlessness and an emotional devotion. I was both a romantic and a rebel, a dreamer and an anarchist at the same time, animated by a naïve belief in the good and beauty of this world. Friends of all backgrounds accompanied me on this adventurous path and remained loyal to me, even in difficult times and on rocky paths, in ups and downs and the vastness of the African savannah.
As I had studied French and then Swedish literature, the rich cultural treasures of these countries were part of my intellectual and humanitarian education. It was books, not people, that had already opened a path to other cultures for me in my youth. In Hermann Hesse's book "Der Steppenwolf" (The Steppenwolf) I instinctively felt an intensely pulsating blood relationship; in retrospect, this book seems to me like a sketch of my later path in life, marked by loneliness but also illuminated by humour. But Colin Wilson's analysis of "The Outsider", which I also read when I was at school, was also something like the realisation of my identity as an outsider. It would be difficult to list all the names of those poets and writers who – at different times – were vital to me, but the Swedish poet Gunnar Ekelöf, the French writer Albert Camus and the philosopher, humanist and essayist Michel de Montaigne were undoubtedly among those people in whose works I could recognise myself, who contributed early to my intellectual development and who accompanied me throughout my life.
My special love throughout my life has belonged to the works of poets, among them Fernando Pessoa, Giuseppe Ungaretti, Konstantin Kavafis, Ezra Pound, Rafael Alberti, Giorgios Seferis, Hermann Hesse, Robert Creeley, Mayakovsky, Juan Ramon Jimenez, David Rokeah, Dylan Thomas, Günther Eich, Bertold Brecht, David Rokeah, Thomas Eliot, Paavo Haavikko, Vincente Huidobro, Paul Eluard, Arthur Rimbaud, Pablo Neruda, Jannis Ritsos, Rainer-Maria Rilke, Hans Magnus Enzensberger, Sergej Jessenin, Marina Zwetjewa, Ingeborg Bachmann, Andreas Gryphius, Nelly Sachs, Laurence Ferlingetti, Jack Kerouac, Allen Ginsberg, Volker von Törne, Albrecht Goes, Pier-Paolo Pasolini… to name just a few of my favourite poets. 
From the study of literature to ethnography
My impetuous, uncontrolled love of literature was disciplined and channelled into intellectual paths during my studies. I had the great good fortune to attend lectures in Zurich by the two most famous professors of literature of their time, the Belgian Prof. Georges Poulet and Prof. Paul de Man from Yale University; they opened up a completely new approach to literature for me and made studying a fascinating, sensory and spiritual experience. Under Prof. de Man, I wrote a dissertation on the poets Gunnar Ekelöf and Stéphane Mallarmé; it was intellectually an extremely demanding work, which was awarded the attribute "summa cum laude"", but in retrospect seems to me like a daring (apparently successful) acrobatic act high above the heads of ordinary people. Later, I would be wary of writing such generally difficult-to-understand studies and strive to write simply and easily understandable, always keeping close to the people with my language.
On the recommendation of Prof. de Man, I was elected professor of French literature (at the Dutch University in Kisangani, Congo) when I was only twenty-six. The time in war-torn Congo was politically stirring, dangerous, frustrating and professionally unsatisfying; it was only at the University of Khartoum, the site of my next teaching assignment, that I would come to appreciate and enjoy the privilege of introducing young students to the world of poetry. I was happy in Khartoum, and yet after only two years, my thirst for knowledge drove me to the south-east of Sudan, with the aim of searching for the roots of literary creativity and the essence of oral literature in the remote wilderness of the African savannah. This is how I arrived at ethnography via the broad field of literature. I understood ethnography as a kind of living, physically tangible literature, an open book written by people whose initially incomprehensible language had to be learned and understood. It took me fifteen years to complete my research (and twenty-five more years to publish the eight-volume monograph).
Ethnographic books
Out of passion for foreign cultures and in preparation for my own fieldwork in Sudan, I had naturally devoured books by well-known ethnologists, but only found in Michel Leiris and in Lévy Strauss' book "Tristes Tropiques" those qualities that I was looking for during my own research and against which I wanted to measure my own work: to give expression to the human, also emotional closeness to foreign cultures in a comprehensible, touching way and to do without theories. I did not want to write about foreign cultures as if they were abstract objects, but to place the daily lives of the people at the centre of my reports. I hope that I have done justice to this demand for human closeness in my books and lectures and that I have made a contribution to the fight against racism through my books.
Languages
Language was always important to me, fulfilling my need to open up and approach other people, but in the process also giving me insights into my own inner life; language allowed me to create, to find my way in the world and to settle into it. I started writing at a very young age (on an old Olympia typewriter) and writing (of letters, reports and books) became an addiction I could not escape throughout my life – not even during my years in the wilderness (I used them to compile a large dictionary of the indigenous Anyuak language). Wherever I was, I also tried to understand foreign languages, but my efforts to learn Marati, Vietnamese, Urdu, Lingala or Farsi all failed miserably, and my knowledge of Spanish (I attended a school in Barcelona) and Arabic (I took lessons in Khartoum) also remained rudimentary and petered out over the years; Finally, I only "mastered" German, French, English, Swedish and Anyuak; at least I understood and spoke Norwegian reasonably well.
My personal commitment to peace, cultures and human rights
During my youth, I had been a rebellious rebel, was carried by the vision of love and justice. The concerns of the '68 generations corresponded to my own thinking, but like Leonard Cohen, the poetic version of rebellion as a vision of peace and freedom was closer to me than the loud, purely physical struggle against the oppressors and exploiters.
A political person I was not at heart, but my hatred of racists, my commitment to people in need and my struggle against all kinds of social and human injustice gave me the reputation of a fighter for human rights and peace. My attitude to life was based on the conviction that one cannot be human if one does not respect other people and denies them the right to dignity and well-being.
The peaceful coexistence of cultures was the focus of the last period of my professional life – first as an advisor to Unicef and then as a peace advisor to the Swiss government for many years. It consisted in trying to promote respect for the dignity of all cultural identities and to encourage the different cultures to work together productively. The project had the support of all the tribes in South Sudan, only the government feared the "power of the people" and tried to stall the peace project; but when the Swiss government decided to leave the peace project to the newly created government, the tribes lacked the strength of their own to make peace; the hope for peaceful coexistence among the tribes sank into the mire of politics and led to new atrocities. The Swiss peace project could have saved thousands of lives and entire cultures and created the conditions for peaceful development.
The reward of hospitality
A house can be luxuriously furnished and idyllically situated, but without visitors the most beautiful house is only a desolate, poor shelter abandoned by all good spirits – but in good company a hut can become a shining palace! My parents loved visitors, and what I could bring them from my travels were friends from all over the world – first from France and Scandinavia, but later from all those countries where I had lived. The tradition of hospitality outlasted the death of my parents and gave me the strength to survive periods of loneliness in old age and to remain cheerful and confident in the company of increasingly younger and younger friends.
What life brought me and what it left me with
Apart from my own wealth, I had everything in my life, including solid relationships, but external circumstances (unfortunately?) did not allow me to start a family; my life in freedom was a curse, a temptation, a promise, and an obstacle at the same time. Because I did not want to or could not let myself be tied down to one person (or I lacked the opportunity and necessary conviction to do so), I did not have to get divorced either: the physically often very close relationships with women and strong friendships with school and work colleagues or with local staff outlasted years of physical separation and live on to this day, still keeping me alive and giving me the necessary energy and joy for life. Financial support from acquaintances, sympathisers and professional colleagues and indestructible bonds of friendship have been the great reward of my efforts for peace, cultures, human rights and the physical well-being of many people.
«Exhaustion dries me up, but it does not get hold of me: next to me the last glow of youth still laughs. I have now got everything I wanted: I have even gone further than certain hopes of the world promised me: emptied you are now here, inside me, filling my time and the times. Reasonable I was and irrational, both to the bottom. But now… oh, desert, deafened by the wind, by the glorious and dirty African sun that illuminates the earth….»
Pier-Paolo Pasolini's melancholy review of his eventful life could probably also be valid for me.
PS.
Looking back on a lavish life of luxury
In a curriculum vitae, there are usually no references to the financial background on which this life took place. Because money played a big role in my life (mostly in a negative way), this aspect should be mentioned at the end.
Without realising it, I was a spoilt child, spoilt by the wonderful nature in the mountains and by parents who not only lovingly cared for the well-being of their children, but also gave them the freedom they needed to develop. However, I have bitter memories of my father's financial worries, who felt on the verge of bankruptcy every fortnight and was panic-stricken that he would not be able to pay his workers' wages; since that time, I have seen money as a curse and existential threat – the fear of unemployment and financial hardship accompanied me throughout my life. Therefore, having money could never be a goal or even serve as an incentive, it was an extremely threatening matter for me. My father was very worried about my future because it was all too obvious that I was trying to avoid all financial considerations; I would never get off the ground with such an attitude. But despite my financial nightmares during adolescence, we children lacked nothing physically, felt neither poor nor rich and were content with our lives.
I could never have imagined that I could have been happier by possessing money; on the one hand, I was unpretentious and on the other hand, I was always lucky enough to be supported in my plans by generous friends, during my studies, the years of research and afterwards. I was never able to earn much money from my work, neither at the universities nor at the Red Cross, but it was always enough to live and travel. My research and publications were supported by scholarships (University of Zurich and Swiss National Science Foundation), friends and personalities who were well-disposed towards me (Prof. Verena Meyer, Dr. Hans Vontobel), and a frugal, often spartanly simple life allowed me to realise my professional ambitions. It was only as an advisor to aid organisations and the Swiss government that I received a good salary for my work, but because I was not used to having much money, I now shared it lavishly with many young people who would have had no future without my support. "If you don't have money you shouldn't play the rich man", said the French singer Jacques Brel, and perhaps I should have taken this advice after all. In any case, my countless contributions to the studies of young South Sudanese contributed to the fact that although I did not get into financial difficulties after my retirement, I could not afford luxuries (such as travel, restaurants or material things). Nevertheless, I felt privileged and rich inside, because after all I was in possession of countless jewels and diamonds, wonderfully loyal friends from all over the world! So the luxuries accumulated during my life consisted of interesting experiences, meaningful work, encounters with many good people and generally an envy-free feeling of contentment. Nevertheless, at the end of my life I was left with a feeling of guilt: I would have liked to give people even more or at least pay off my debts.
Review of my spiritual life
I pondered on the spiritual aspects of my private life in a lecture in the old church of Monstein on New Year's Eve 2014. Religion had never been a dogma for me, but rather a spiritual and practical help to life in general, and in particular to nature and the fate of people. Whether there was a "God" in my life or not, I was grateful for any help I was allowed to receive from spiritual forces of which I was not directly aware. In my life, I tried to do my best and to get along with myself – hoping that a merciful God or good Gods would also recognise my efforts and find them sufficient. "I tried and did my best", my father already said, "that's all I could do".